Provincial Boundaries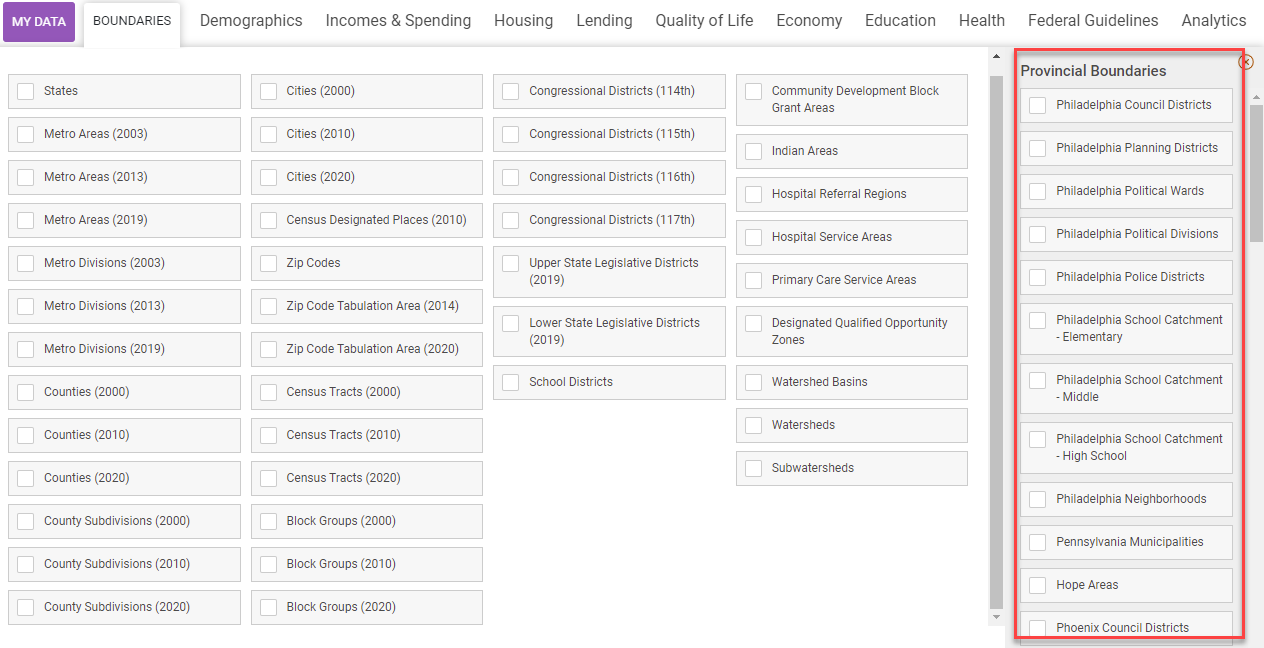 Provincial Boundaries in the Boundaries menu has been updated to remove local boundaries. As the name implies, these boundaries are for specific places and users, which can only be seen if you are in the city or state that they represent which was why we have removed them for all users.
We have only removed them from display so don't worry, they are still there and can be added to your account easily. Below is the list of available Provincial Boundaries that can be added to your account;
Updated on 12/16/2021
Philadelphia Council Districts
Philadelphia Planning Districts
Philadelphia Political Wards
Philadelphia Political Divisions
Philadelphia Police Districts
Philadelphia School Catchment - Elementary
Philadelphia School Catchment - Middle
Philadelphia School Catchment - High School
Philadelphia Neighborhoods
Pennsylvania Municipalities
Hope Areas
Phoenix Council Districts
New Orleans Parcels
New York City Community Districts
Prince George's County Council Districts
Chicago Community Areas (2017)
Chicago Wards (2015)
Chicago Neighborhoods (2016)
Chicago Police Districts (2016)
Washington, DC Wards
San Diego County Supervisorial Districts
San Diego County Health and Human Service Regions
San Diego County Subregional Areas
San Antonio City Council Districts
Metro/Non-Metro Counties (2003)
Metro/Non-Metro Counties (2013)
Baltimore Neighborhoods
Houston Super Neighborhoods
Jacksonville Council Districts
Atlanta City Council Districts
Dallas City Limits
Dallas Council Districts
Detroit Council Districts
Dallas Police Sectors
Dallas Police Beats
Dallas Service Areas
Birmingham Community Areas
NJCC Boundaries
Moku
Important Agricultural Lands - Unique
Important Agricultural Lands - Prime
Important Agricultural Lands - Unclassified
Important Agricultural Lands - Other
Atlanta Beltline Subareas
Atlanta NSAs
High School Catchment Areas
New York City Council Districts
Send us a quick email at Provincial Boundaries or head to our Contact Us page. Please include your email address (or email addresses for other users) and which boundaries you would like to add.
Do you have local boundaries that you would like to see on PolicyMap? Send us your suggestion with the source of where the boundaries, and we will look into possibly adding them.
---
---