Legacy Tables
The Tables feature allows you to view data as a bar graph or chart that can compare values across multiple geographies. Parts of this feature are only available to subscribers.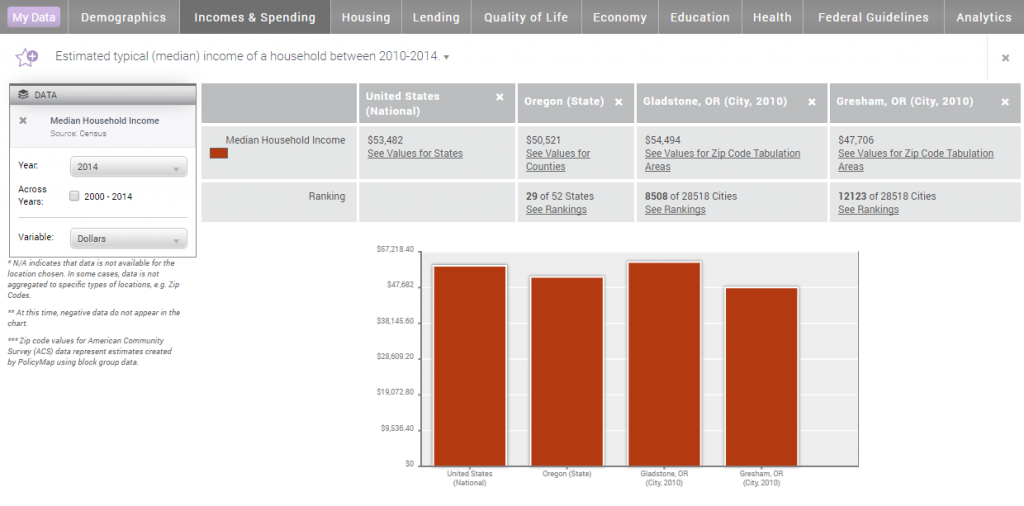 There are two ways to create a table:
Click the Tables link at the top left of the maps page, enter locations in the Location Search bar, and load data from the data menus or Data Search bar.
Use the location search bar to add additional locations to compare in your table. You can delete any location by clicking the X symbol next to the name of that location. Once you have your list of geographies to compare, you can then change the data layer you are viewing by selecting a new data layer from the menu above. Please note: N/A for a geography indicates that data is not available.
You can also add point datasets to see details on the points within each geography in the table.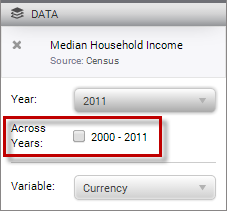 Trend Charts 
Once a data layer is loaded, users can use the legend to toggle through any available years. To view the trend select Across Years. Not all indicators have multiple years of data.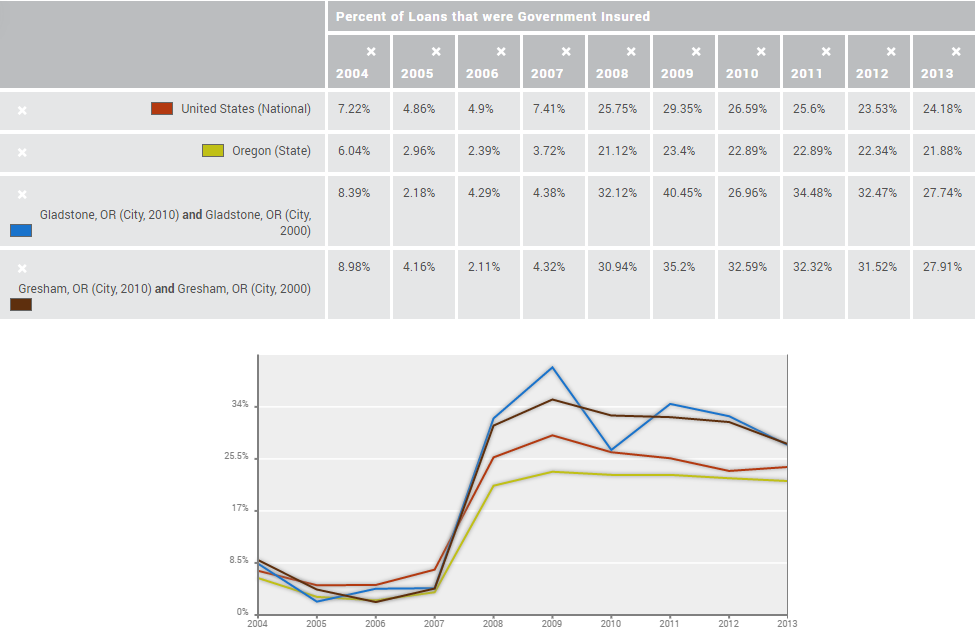 See Values
Users can get a list of all the values of data for all the smaller geographies that exist within an area.
In the example below, See Values will show the population of all the states in the US, population of each county in the state of Oregon, census tracts in the city of Portland, and block groups in that census tract.

Subscribers have the ability to load custom regions onto a table to see aggregated counts. The Tables function does not calculate other variables (e.g. percentage, currency, or percent change), but will offer a See Values list to show the data for the geographies that make up the custom region. To add a custom region to your table, open the My Custom Regions menu on the bottom right.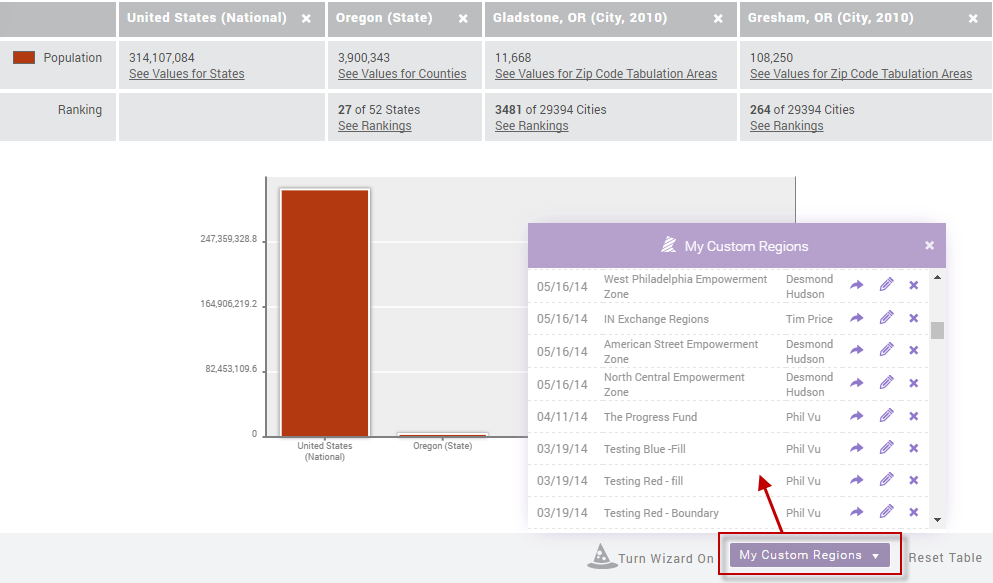 See List
If a point dataset is loaded in the table, the See List feature will display all the points that are contained in each geography. Users can then download a CSV file which will contain all the data for the sites. Please note: Unlike Data Layers, users can load multiple Data Points on to the Table to query and generate a list. Simply add additional point datasets from the data menu above.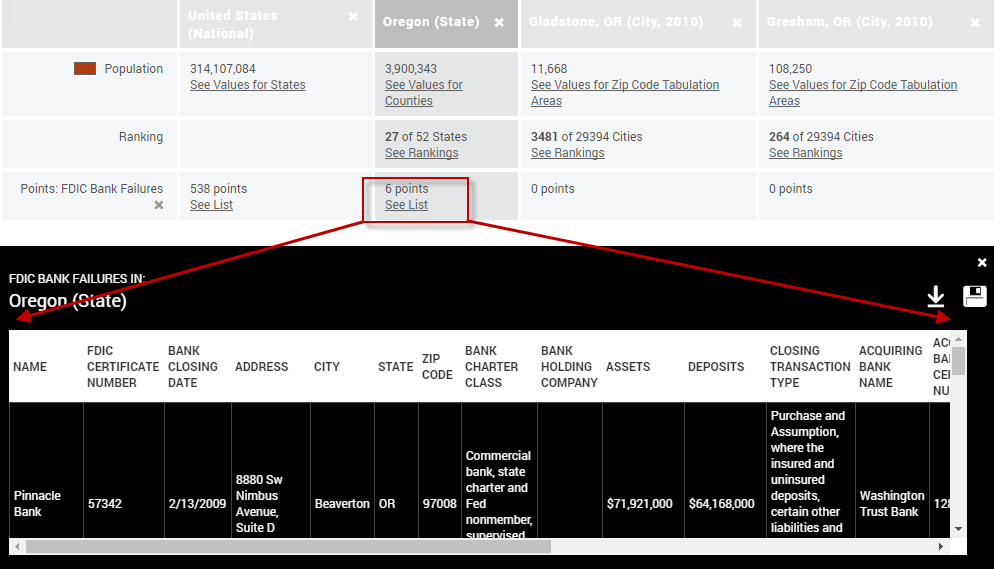 Ranking
The Ranking feature allows subscribers to see where a location ranks among other geographies within a single dataset. Rankings will allow you to see geographies that rank above and below it, and also give you the top and bottom 10 locations in that dataset.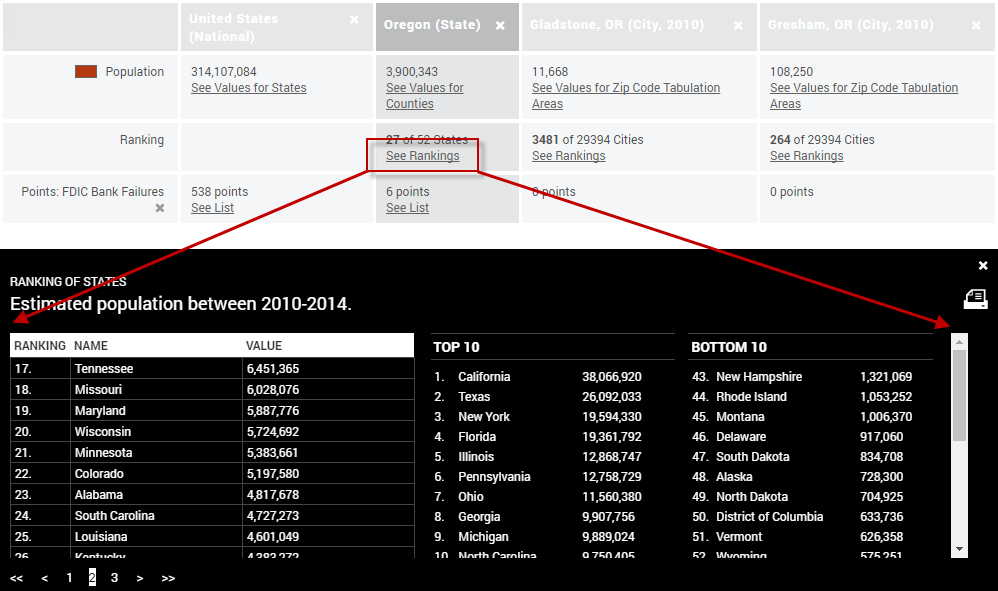 Data Download in Tables is similar to the Maps page, with geographies in each location available for download.
---
---